TMD CREW
Opis niestety w języku angielskim. Ja się dowiedziałem to co mnie interesowało
New Zealand's most reputable and successful graffiti art group TMD are coming together for a graffiti art exhibition to recognize the crew's tenth anniversary. Each artist is accomplished in their own right and this show will reflect their talent in the international scene.
The Theme:
Each of the thirteen artists will be displaying their work in their chosen visual format, all with the central theme of individual style within the greater philosophy of crew commitment, an important aspect of hip-hop culture.
Representing...
Graffiti art "crews� are a social structure within hip-hop culture whereby individuals with a common aim or ideology come together to work as a group for various benefits. Crews adopt a name befitting the image they wish to portray for themselves, these names often shortened to initials and credited on paintings like a signature or brand. Any activity involving the promotion or establishing recognition of the crew is called "representing�. The various definitions of TMD include The Most Dedicated, Til My Death, That's My Dogs, Too Much Drama and more.
About TMD:
TMD crew was established in 1996 by two individuals with legendary careers in Auckland graffiti art, Phat1 and Addict. From there, the crew has grown and evolved to the current line-up, now including three of Germany's leading figures in the field. The highly regarded Can2, Atom and Wow123 have all had impressive histories and it was during their tour of New Zealand in 2003 that they were invited to join TMD, having established a strong connection with their antipodean counterparts. They are representing worldwide, pushing the profile as the local members begin to enjoy more international attention.
The Artists :
Phat1 is the Style Master Sergeant Major. His work is centered on his hard edged intensely powerful letter forms. A founding member of the group he has been painting for over 12 years and has featured in numerous shows as well as working as a freelancer creating artworks for individuals and businesses.
The mysterious Brigadier Addict works mostly in covert ops and his history is largely unknown. He is however a founding member and the most decorated soldier in the ranks.
Five-Star General and Minister of Defense Askew is New Zealand's most internationally successful graffiti artist, having been invited to paint in Germany and Ireland (2003), Australia (2005), exhibiting in Japan (2003), he is an invited artist to one of France's largest jams Kosmopolite (June 2006) and will be traveling again to Germany in August 2006 to document the Write 4 Gold competition at the legendary Splash Festival. He has also featured in sixteen shows locally.
Private Deus is a committed individual that shows outstanding potential in the field. He specializes in progressive comic punk rap anti-style and is one to watch for in the Auckland art scene.
Private Pest5 is killer-graffi master, possessing a sharp knowledge of the geography of the South Island. He is an expert in orienteering and survival, having painted in nine countries and working professionally as an artist for several years. His technical skills have proved invaluable in high-pressure situations.
Lieutenant Dyle has traditional approach to his strong letter based work. He is a fine soldier with a haircut to match.
The only female in the ranks is Major Diva, arguably our country's best girl writer. She too has strong wildstyle pieces and has been serving lately on home guard detail.
Corporal Exist has served in Hamilton and Parnell and has led the way in many victorious battles. He is also a member of the elite Stick Up Kidz international graffiti art group. He is currently stationed in Newton Gulley spearheading recon operations.
Sergeant Acre has been on active duty for many years and has an original and distinctly colloquial take on New York style graffiti.
Colonel Can2 was the catalyst of the German-New Zealand Global Style Domination Union Agreement (GNZSDA) and one of the signatories of this historical document. He is the founding member of one of Europe's leading crews Stick Up Kidz and manages the clothing brand of the same name. He has traveled extensively on diplomatic missions and is a communications expert.
Doctor Atom of Germany is a style scientist and has achieved breakthrough results in his research which is awaiting field trials. He too has traveled extensively and has also served as a gold-selling rap artist in his home country.
Commandant Wow123 hails from Bremen and has one of the most highly developed wild styles internationally. He has a long history of exhibitions and travels and spent some time working undercover in New Zealand, an experience which changed his life.
Special Ops Special Agent Fiasko is a rogue rule-bender who refuses to follow conventional procedures, a valuable recent addition to the squadron.
Private Ryze is a TMD soldier through and through, putting in the yards out on the frontlines against any adversity in a exceptionally original style.
Lastly, Private Deap1 is the resident documentarian and data analyst, working in the medium of photography. He possesses an extensive knowledge of weapons and is a terrific field surgeon, having spent years studying natural remedies.
What: 10th Anniversary art exhibition of grafitti artists collective DMT.
Featuring: Phat1, Askew, Addict, Deus, Pest5, Dyle, Diva, Exist, Acre, Can2, Atom, Wow123, Fiasko, Ryze, Deap1
Phat1
Phat1
Askew
Exist Dyle
Exist, Phat1
Askew, Fiasko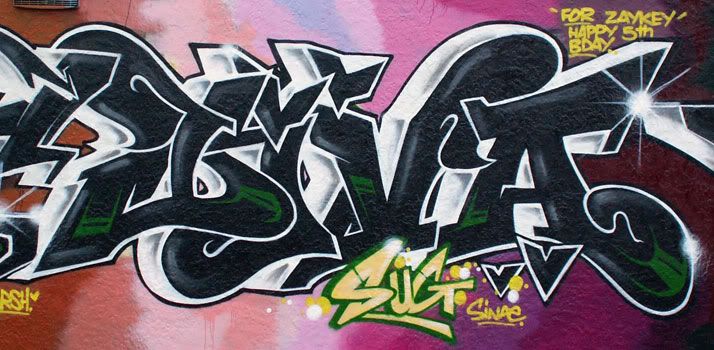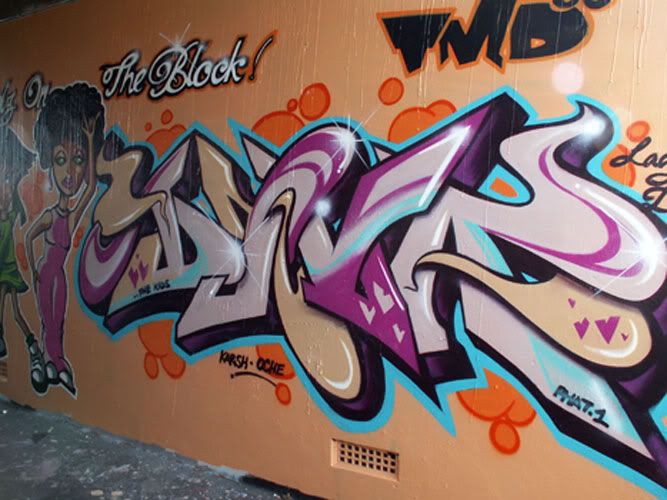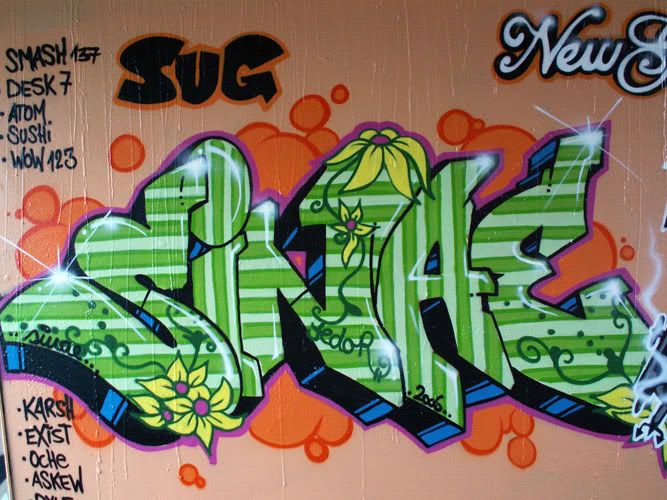 Do 2 godz. dodam resztę. [/b]